Listen to this article:

The Worldwide Experience blog (The Endangered African Penguin – Oil Spills and Current Stats) recently published an article saying; "The city of Port Elizabeth is not only home to Worldwide Experience but also home to the largest colony of the endangered African penguin in the world.  The African penguin is endemic to the coastal regions of Southern Africa. Its biggest breeding population is located on the small island of St Croix, which is situated in Algoa Bay, Port Elizabeth."
What caught my eye was this; "There has been a rapid decline in number over the last year from 15,200 in 2018 down to only 13,300 breeding pairs. Of which 3638 are found on the little island of St Croix (from 5428 in 2019) and only 55 breeding pairs on Jaheel Island in 2019 from the 2018 population of 232 breeding pairs.This is according to SANCCOB research manager, Dr Katrin Ludynia and her team who are working tirelessly to find ways save each bird using research, rehabilitation and education. "
As a young sailor I remember well the excitement (and smell) that would greet us as we neared St Croix teeming with penguins, seals on Brenton Island and busy sharks patrolling the water between the two on the hunt for a tasty snack.
But we as man have not learned our lesson and continue to disrespect nature that feeds and nourishes us.
First it was our greedy harvesting of guano off of St Croix that deprived the penguins of valuable nesting material, then the building of the Port of Nqura that rendered Jaheel a no go safe haven for nesting birds, followed by the establishment of an offshore bunkering area, with present plans for a fish farm (or three) and, in the article below, Lorien Pichegru talks about the threat to the penguins from Seismic vessels.
On Marine Trips into Algoa Bay we have noticed that all marine animals 'disappeared' when we had seismic vessels in operation.
Are seismic surveys driving penguins from their feeding grounds?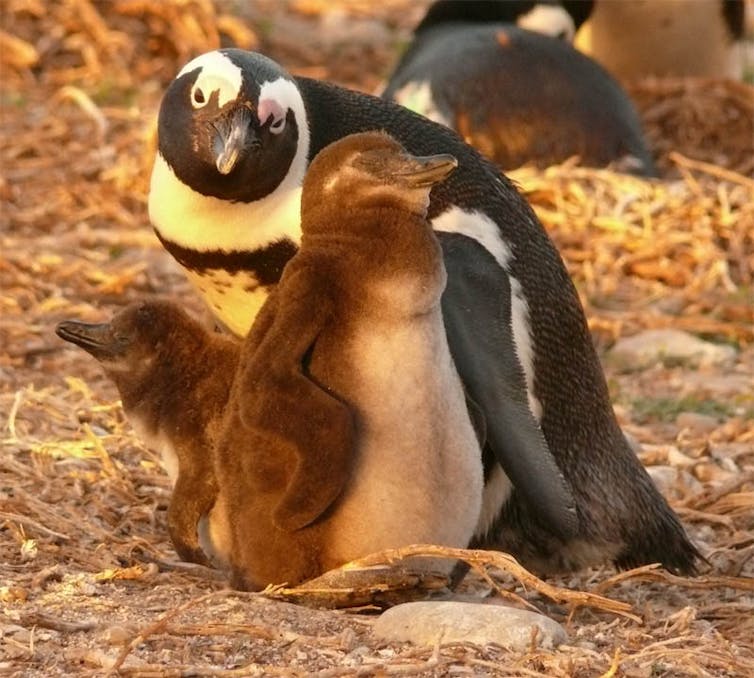 Lorien Pichegru, Nelson Mandela University
Whales, dolphins, squid and fish are among the many marine species that rely on underwater sounds for everything from foraging to communication. By listening to what's happening in the water around them they able to orientate themselves, locate prey, avoid predators or even select a mate.
But the underwater sonic landscape is changing. It's being affected by commercial shipping, sonar systems used by the navy, for example, or by fishing industries to locate fish schools and blasting for construction. Marine seismic surveys – which explore subterranean geological features for petroleum, natural gas and mineral deposits – are also becoming more common in response to the world's growing energy demands.
These extremely loud man made underwater noises can harm marine animals. Seismic surveys can cause barotrauma in fish, which is the damage of tissues due to rapid changes of pressure following the loud sounds wave travelling through the water. Fish eggs that are laid in the vicinity of seismic surveys are also more likely to die off. And recent research has shown that more zooplankton dies near seismic surveys. These are the tiny animals that form the base of the marine food chain, underpinning entire oceans' productivity. All of this means that seismic surveys can have serious consequences on marine ecosystems.
Until now there's been no evidence about the potential effects of seismic surveys on seabirds. My colleagues and I recently published a study that assessed the foraging behaviour of African penguins before, during and after seismic operations conducted within 100 km of their two largest breeding colonies.
Both colonies – St Croix Island and Bird Island – are situated in Algoa Bay near the South African seaport of Port Elizabeth. They are home to approximately half of the species' global population.
We found that African penguins foraging 100 km from active seismic operations showed a clear change of foraging direction during seismic periods. They diverted from their traditional feeding grounds and increased their distance between their feeding area and the seismic vessel's location.
The vessel's noise may have chased the penguins into sub-optimal foraging areas, and possibly even damaged their hearing. The extra distance also meant the adult penguins had to use more energy while foraging. For a species that's already under pressure, these factors can have important consequences for their survival and that of their offspring.
Tracking penguins' habits
We concentrated on penguins for several reasons. Firstly, they are flightless birds and spend much of their time underwater. So they're expected to be sensitive to loud underwater sounds.
They are also among the most threatened bird families. The world's population of African penguins has decreased by 70% since 2004. Oil pollution, climate change and the birds' increased competition with fisheries are to blame.
Their feeding range was another important factor. During breeding season, which lasts from February to August in Algoa Bay, they forage within 30kms to 40kms of their colonies. That means if seismic surveys are happening in the vicinity, the birds simply can't get away. If they travel further from their colony, it will take them too long and their chicks won't survive the time spent waiting for their parents.
To track the birds, we taped GPS recorders to their backs. We then collected 333 complete individual records of where they went to look for schools of anchovies and sardines at sea during over four years: March to May in 2009, 2010, 2011 and 2012, when there was no seismic survey activity, and the same months in 2013 when surveys took place.
We found no change in the Bird Island penguins' foraging behaviour when the seismic vessel was active. We deduced that they weren't affected by the seismic activity because their usual foraging route took them more than 100kms away from the 2013 seismic survey area.
On the other hand, we found that the St Croix Island penguins switched their foraging area in 2013. Our deduction here was that their normal foraging areas were close to where the seismic surveys were taking place – within 65kms on average.
The penguins returned to their normal area only once the seismic survey was finished.
This is the first record of seabirds avoiding an area they would have used under normal circumstances.
Explaining avoidance behaviour
There are two possible reasons for the penguins' avoidance behaviour. The first is that they were directly disturbed by the seismic surveys' noise. The second is that the fish they were hunting moved to different, more distant areas during the 2013 study period. It's not clear whether the fish moved away because of the noise or for some other unrelated reason.
Our hypothesis is that, rather than follow their prey, the African penguins relocated away from their traditional feeding zones to avoid the disturbance generated by the noise of the seismic vessels. This is supported by the fact that the birds quickly reverted to normal foraging behaviour once the seismic activities had stopped.
This suggests that seismic activity has a relatively short term influence on the behaviour of both African penguins and their prey. But we can't rule out potential longer term effects on the birds' hearing.
Based on this study's findings, we'd suggest that exploratory seismic activities should be banned within at least 100km of African penguins' breeding colonies.
Lorien Pichegru, Researcher in Marine Ecology, Nelson Mandela University
This article is republished from The Conversation under a Creative Commons license. Read the original article.
The following two tabs change content below.
Chief Cook, Bottle Washer and Broom Mechanic
at
MyPE
Passionate about Port Elizabeth and definitely NOT packing for Perth. Alan's ethos is epitomised in the words of Nelson Mandela; "
I have fought against white domination and I have fought against black domination. I have cherished the idea of a democratic and free society. If need be, it is an ideal for which I am prepared to die.
"
See more articles by Alan
.
Latest posts by Alan Straton (see all)